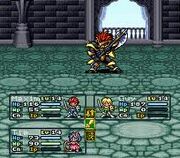 Camu is a minor villain who appears in Lufia II: Rise of the Sinistrals.
He inhabits the top of the tower east of Tanbel. He is defeated by Maxim, Tia, and Guy after they make there way to the top of the tower to rescue Hilda (Guy's sister), who Camu had previously kidnapped in Tanbel.
Camu owns a piece of armor which sits in one of three chests behind him at the very top of the tower. If the party were to make a second climb to the top to collect it, Guy is able to equip it. It has a IP move called Divine Cure, which partially recover the HP of all members of the party when used.
In Battle Statistics
Edit
Community content is available under
CC-BY-SA
unless otherwise noted.